<![if !vml]>
<![endif]><![if !vml]>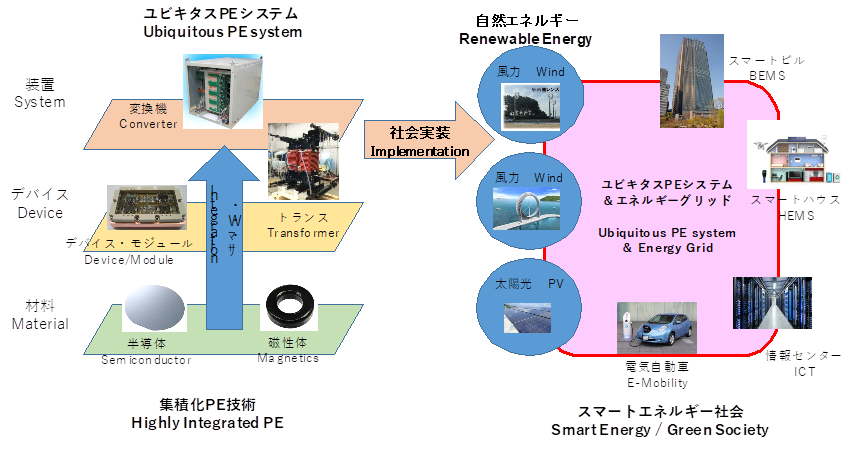 <![endif]> @@@@@@@@@@@@@@@@@@@@
<![if !supportLineBreakNewLine]>
<![endif]>
Kyushu University
Research Institute for Applied Mechanics
Renewable Energy Center
(RESE: Renewable Energy System Engineering)
(Japanese)
(Update: April 28, 2017)
---
Research: New Green Electronics Fields towards Green Society
We are now getting enter more electrified society on both daily life and Industries. With mega-trends, 1) renewable energy usages, 2) IoT, 3) e-mobility and so on, electronics and related technologies become more important. Power electronics has started as the interstitial technology to three major disciplines of electronics, power and control. Recently, because of new mega-trends, power electronics has been redefined as Green Electronics by merging microelectronics, materials, information and communication technologies, etc. We are now trying to open the window towards Green Society by promoting the research of new green electronics.
/ Future Power Devices and Materials (including passive components)
/ Advanced Integration Technology for Future Power Electronics System
/ Reliability Science and Design Technology for Future Power Electronics System
/ Advanced Power Electronics System for Future Energy Grids
* We also belong to Q-PIT: Kyushu University Platform of Inter / Transdisciplinary Energy Research.
Education
We are a cooperative laboratory of Graduate Course of Aeronautics and Astronautics, Graduate School of Engineering at Kyushu University.
Positions
We are open for PostDoc. and graduate course students.
/ Crystal growth and device process modeling, and/or its characterization
/ Power device simulation (TCAD)
/ Power module design, prototyping, and its reliability
/ Passive component design
/ Converter design and prototyping
/ Energy management system
<![if !vml]>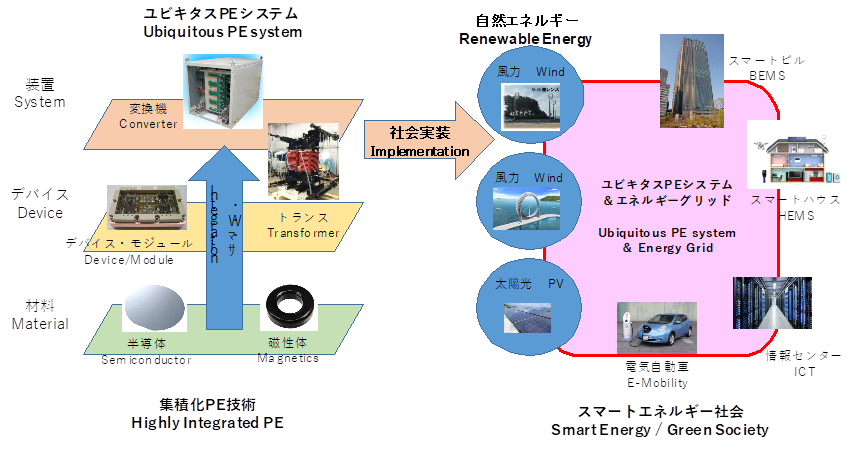 <![endif]>
---
Member
Name Tel e-mail room
Shin-ichi NISHIZAWA Prof.Dr. 7294 s.nishizawa 304
Kae Saruwatari Assistant 7294 kaesaru 304
(Administrative Staff)
* TEL@+81-92-583-**** e-mail @********@riam.kyushu-u.ac.jp
---
Whatfs new
<Labs.>
Feb. 1, 2017 New lab has started with Prof.Nishizawa.
April 1, 2017 Mrs.Saruwatari joins the lab as Assistant Administrative Staff
June, 2017 Lecture at Gakushuin University, g Electronics Materials for Green Societyh .
2nd Semester, 2017 Lecture g Mechanics I g.
<![if !supportLineBreakNewLine]>
<![endif]>
<Research>
Feb. 21&22, 2017 Prof.Nishizawa organized 5th Power Device Silicon and Related Maerials Meeting@Tsukuba (domestic).
March 7, 2017 Prof.Nishizawa presented at CLINT-WPE Workshop@Nuremberg, g WBG Roadmap – Lead Applications g.
March 17, 2017 Presentation at IEEJ@Toyama (domestic), g Aluminum Electrolytic Capacitor Accelerated Test with DC Bias Voltage under High Temperature g.
May, 2017 Presentation at PCIM@Europe@Nuremberg, g An Evaluation Circuits for DC-Link Capacitors Used in a Single-Phase PWM Inverter g.
July, 2017 Presentation at IWCGT-7 @Potsdam, g Improvement of Si Materials and Processes for Si power devices g .
---
Access
Kyushu Univserity
Research Institute for Applied Mechanics
Renewable Energy Cener
Renewable Energy System Engineering (RESE-lab)
6-1 Kasuga-koen, Kasuga, Fukuoka, 816-8580, JAPAN
We are at RIAM main building, 3F-304.
Access to RIAM, Kyushu University
---
Link
Research Institute for Applied Mechanics
Graduate Course of Aeronautics and Astronautics, Graduate School of Engineering at Kyushu University
Q-PIT: Kyushu University Platform of Inter / Transdisciplinary Energy Research
NPERC-JFNew Generation Power Electronics and System Research Consortium of Japan
ECPE European Center for Power Electronics
The Center for Power Electronics Systems (CPES)
---
Copyright © Renewable Energy System Engineering Section, RIAM, Kyushu Univ.


<![if !supportLineBreakNewLine]>
<![endif]>